Aizu – Zao Powder Tour with Whiteroom Tours
LOOKING FOR SOMETHING NEW AND OFF THE BEATEN PATH?
AFTER RUNNING A FEW TEST TOURS AND SCOPING TRIPS OVER THE PAST FEW YEARS WHITEROOM IS OFFICIALLY LAUNCHING INTO SOUTHERN TOHOKU WITH ITS AIZU-ZAO POWDER TOUR.
Only two hours by Shinkansen from Tokyo, but a world away, the Aizu region sits under the majestic Bandai-san, a towering volcano that is surrounded by 12 ski resorts caked in powder.
Few westerners visit this area making it one of the last remaining places in Japan which powder lays untouched days after it snows.
From our base at Urabandai Lake Resort, you'll explore the in-bounds and backcountry terrain of Minowa, Grandeco, Alts Bandai, Nekoma and Inawashiro ski resorts.
Each offers up something different from charging through birch forests in knee-deep powder to hiking the ridges of Nekoma or dropping down pillow ladened pitches to a road pick up and an end of day onsen.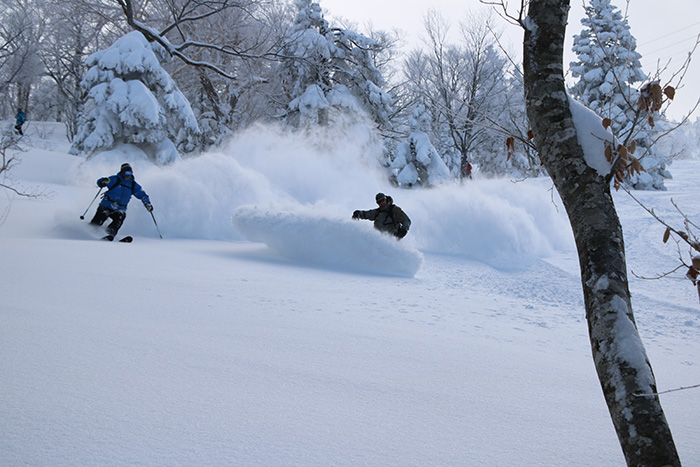 Storybook Samurai Japow awaits
If you are needing a rest (optional) from all that pow smashing we will take you on a cultural day tour in the Aizu region. First stop Ouchijuku, one of the few traditional thatched roofed towns left in Japan, famous also for its soba noodles and miso.
We will also visit the ancient Samurai town of Aizuwakamatsu and explore Tsuruga Castle once the home of samurai loyal to the shogunate during the Edo period, enjoy a traditional tea ceremony, then sample local sake at the famous Suehiro Sake Brewery.
Our last three nights will be spent in Zao Onsen just under 2 hours to the north. Zao is the second oldest onsen town of its kind in Japan.
Many travel here seeking out its therapeutic onsens, or to see it's famous snow monsters, we will also seek out its epic pow.
During the 80's Zao was a happening ski town crowded with skiers decked out in amazing fluro ski suits and dancing the night away in the towns three discos.
Today, like many of Japan's ski resorts, it is a sleepy town with old lift infrastructure and a slightly dilapidated village. However, it is slowly renewing itself thanks to increasing foreign visitors but it is still largely off the beaten powderhound path.
Here we will explore the lift-accessed backcountry by day and wander the streets at night, dropping into a local brewery and sake bar.
On the last night, we will be taking you Yamagata town where we will end the tour in true Japanese style at one of the towns traditional Japanese restaurants, complete with a private Maiko performance.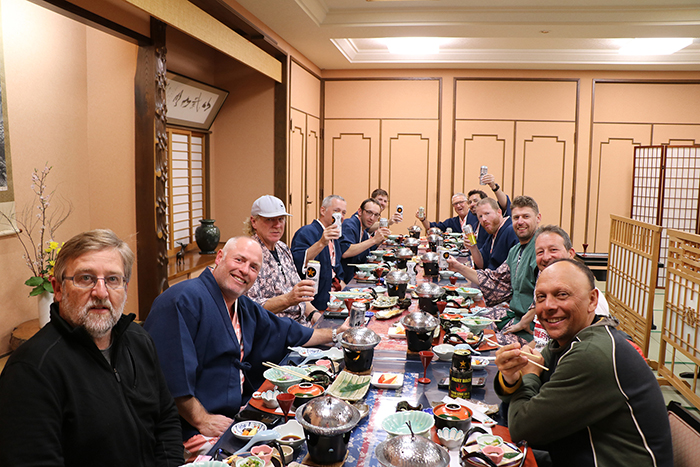 This tour is as Japanese as you can get – travelling through storybook Studio Ghilbli countryside seeking out epic pow, local food and unique cultural experiences.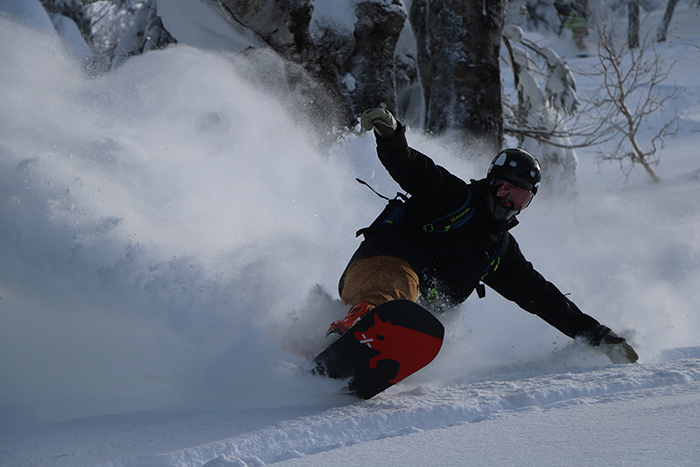 See you in whiteroom !