Information For The Best Price Rental Cars
This special deal for rental cars makes it easier and convenient for you to get around AIZU area in TOHOKU region during December 1st 2019 to March 31st 2020.
"JR Rent-A-Car" at 4 JR stations offers the special prices of maximum 65% discounts. The special deal is especially for foreign tourists who are visiting AIZU area.
You can now easily access to 22 ski resorts while experiencing AIZU Samurai cultures by visiting sightseeing spots with rental cars.
Prices
※Prices are in Japanese Yen
Applicable to customers who fill all the following requirements:
Rent-a-car Offices With The Special Deal

JR Rent-A-Car(JR 駅レンタカー)
3 Steps of Reservation
Fill the application form in the bottom of the page where it says "Promotion Code" and send.
Receive an email with a promotion code.
Make a reservation on JR Rent-A-Car web site; https://www.ekiren.co.jp/phpapp/en/.
Please make sure you enter your promotion code in "Office & Date / Time" page.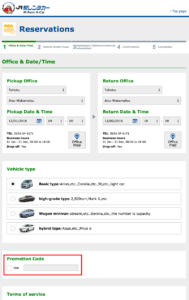 Please see the details of how to book for further instruction.
Handling of personal information
The personal information acquired in this plan (campaign) is strictly managed, and communications regarding usage, customer support, management, publicity and promotional activities, and the purposes associated with these, and the creation of statistical data that cannot identify specific individuals We will use it only for the purpose and within the scope permitted by laws and regulations such as the Personal Information Protection Law, and will not use it for other purposes. Please note that the data is statistically processed, processed and analyzed so that it cannot be identified by individuals, and may be disclosed to third parties such as partner companies.
Personal information acquired through this plan (campaign) will be used except for cases where it is entrusted to a subcontractor for communication, customer support, operation, publicity and public relations activities, or otherwise as required by law. We will not disclose personal information to third parties without your consent.
Personal information obtained through this campaign will be used within the following range.

Data to be used
Name, nationality, date and time of use, type of car used, payment amount
User
JR East Rental & Lease Co., Ltd
Tohoku Cableway Association
Purpose of use
ontact for use, customer support, management, public relations and related purposes, and purpose to create statistical data that cannot identify specific individuals
Personal information manager
JR East Rental & Lease Co., Ltd
Tohoku Cableway Association
Notes:
Reservation can be made up to 3 months in advance.
The special deal is available from December 1st 2019 to 31st March 2020. (The first day of the rent (departure) should be starting during this period.)
You will receive the special deal by entering a promotion code. Please ensure that you enter the code. In case you make a reservation without entering the code, you will not be able to get a discount at the rent-a-car office.
The special deal is applicable only at 4 offices of "JR Rent-A-Car(JR 駅レンタカー)", Aizu-Wakamatsu Office, Koriyama Office, Shin-Shirakawa Office, and Fukushima Office. In case you are not returning to the same office as where you rent, you can drop off the car at different offices with extra fee, which is not applicable for discount. All the other optional equipment and functions are also not applicable for the discount.
Please complete the payment for the rent at the office with a credit card when you pick up the car.
We strongly recommend you to apply and enroll for insurance like Indemnity against liability and NOC support. Please see the details of those insurances on the website. The fee of the indemnification is not applicable for discount.
You need an international license permitted by Genève Convention. Please see the details on the website. Please prepare your passport at a rent-a-car office as well for confirmation.
Please see further notes on the website before making a reservation.
There might be a case where we are not able to accept your reservation since we have a limited number of vehicles.
Promotion Code Application Form
Please fill ALL of the following details. We will send a promotion code within 96 hours.